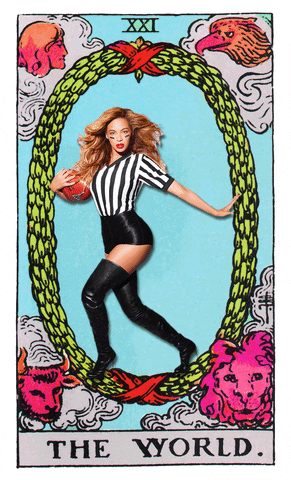 So in the past I have been a bit timid about sharing my full spirituality. We all have our beliefs (even if it's not in a higher being and it's just yourself you believe in yourself). You catch my drift. Well I have told some friends/followers that I am a progressive/open minded Christian, let's say it's very open.
I am a Tarot & Oracle Reader. I read palms. I also am an astro-traveler, a psychic medium, and an Empath. I always knew I was different. You're probably thinking more different than the average out-there Dani that no one knows what to expect next, so yeah I am as different as they come. Some say I am gifted and skeptics will say it's my mental illness. Everyone has that right to their own opinion. Different strokes, different folks…
So I am a bit nervous talking about it because how many skeptics think badly of readers of the Tarot but I have to be scared of. Honestly,there is nothing better than shuffling all my cards and feeling the energies and helping people or just learning more day by day. I feel the Tarot is a part of me and I am The Fool going through the different life experiences through the Major Arcana. I don't get paid for doing my readings on friends, family and so on but I will admit even I am surprised with the results.
For instance, my very own counselor(which is an open minded woman), I decided to finally tell her about my visions, the people I see, and the places I have been. I told her there is even this lady that comes around with her when she sees me every so often with brown hair brown eyes in her 40s went through a harsh sickness, and battled a very hard life but was a good spirit. At this point, I am like oh shit! Here comes the straight jacket and a 72 hour hold in an institution. But instead she was filled with so much joy, she explained she had a close friend that had all of the same qualities, so I threw in more info about her and she was in tears and had goosebumps all over. Her friend suffered a lot of sadness and she died from a drawn out battle with sepsis. She said I can claim your gift true for sure.
Then with following sessions with her, I did Tarot Readings and Oracle Readings and was right on the money every time. I even held back one vision I had from her and told my gf that her marriage would end in separation soon. By the next session I saw her and she looked great and confident.
I pulled a card and I knew it was the 9 of Cups and said this is "the wish" card in the tarot deck since you left a toxic marriage that you poured so much love in and received none. You're cup will now overfill and I don't know when but your wishes will be granted and you will have sucess and fortune. She was amazed and I was like wtf, am I actually saying this nonsense outloud and it's right?
Well I did a full card reading on her following that and it expressed just as I said and she explained things were right on 100%.
Last night, I had a friend that was in complete despair and suicidal. She even showed me a web link that explained her plan. I didn't know what to say or do so I just started shuffling and reading cards to her. She didn't know I did Tarot and I had no idea that she has been searching for something after finding out she was an Empath. I kept doing readings on her until I passed out. Thank God, she is better and has a sense of purpose she feels. All of what I am talking about is not because I am trying to be a show off or think I am the bomb dot com. Nah… I am saying all this for one to explain myself because less people will think I am insane. Lol. Yeah right! Too Late! They thought you were nutso forever ago.
But in all seriousness, I wanted to share my passion and also since tarot decks and book sets have some review sets and have been given cards from a friend that wanted me to do readings for them (Hey! Free Cards, Free Readings, It works! Yay!), I am also going to review them as well as my usual books! That are extremely past due posting. Just so many WP problems! I am excited about my come back to being the wild fun me but now I will just add a little bit of something different into it every once in awhile!😁 I was into Tarot & Oracle in the past but my current readings and such, came from my spiritual enlightenment and I finally feel free. I read freely, meditate freely and I am continually working on my higher self and my personal relationship with My Creator. I know many have different views but I finally feel at peace wherever I am at and even though life is still terribly broken, it doesn't matter and I feel like years of bondage has broken free! So believers or not, I am sure you can understand finding peace and learning how to love yourself and be free to be who you are and this is part of me. One of the many parts of me but netherless.😉 Thanks for reading, my lovelies!😘 Nothing will really change besides all kinds of reviews.🤗 I am thankful that each and every one of you entered my life and feel so blessed to be a part of the bloggy family! Woot!😁 Xoxoxo! I love your faces and hope you guys are having a great week! I am looking forward to chatting with you guys, btw check your spam folders for me. WordPress takes my over-enthusiastic behavior as spam so please check when you get a chance. Also, I don't know what is up with the comments and notifications but it's worse than horse tits. Anywho, Love ya guys! Over and Out!😁